Viking murder: Danish King Canute the Holy was murdered in Odense during a rebellion in the Church of St. Albani. He is considered by many historians to be the last Viking king of Denmark.
Bye bye: Odense makes a point of emphasizing that Denmark's most famous author, Hans Christian Andersen, was born and grew up in the city. But in fact, the future author only spent the first 14 years of his life in the city. Most of his 70-year-long life was spent on Zealand or traveling around.
Tower: Odense once had an impressive tower in the city that measured 177 meters from top to bottom. It's actually only 300 meters shorter than the famous Eiffel Tower. The Odense tower was called "Odinstårnet" and was built in 1935 from steel scraps from the original Lillebæltsbroen bridge. However, the tower was bombed to pieces in 1944.
Victory: Which football club is the biggest in the world? Many would probably point to Real Madrid. While not everyone can agree on whether it's the best in the world, most would recognize that it's a long way from OB – Odense Boldklub – to the Spanish big club in terms of level. Nevertheless, OB managed to beat Real Madrid 2-0 in 1994. And it even happened on Real Madrid's home ground!
Hops: As the saying goes, you have to howl with the wolves you're among. This also applies if you visit a pub in Odense. If you want to behave like a true Odensean and not embarrass yourself, the best thing to do is to order an Albani beer. It's the pride of the city.
Airport: Odense actually has its own airport, located just north of the city. It's not a grand airport, but maybe you can guess what it's called? Yes, it's Hans Christian Andersen Airport, of course.
Known: Many people know that Hans Christian Andersen is from Odense, but which other famous people are from Odense? These include tennis player Caroline Wozniacki, singer MØ and badminton player Viktor Axelsen.
Name: The name Odense is said to come from the name Odinsø, which has since been changed to its current name. According to legend, the Norse god Odin was said to have lived here.
Playground: The capital of Funen loves its playgrounds. In fact, in 2018, there were so many that there was a playground for every 804 inhabitants.
Friendship: It's very common for cities to have sister cities around the world. The same goes for Odense. Their twin cities around the world include Iksan in South Korea, Tampere in Finland and Brno in the Czech Republic.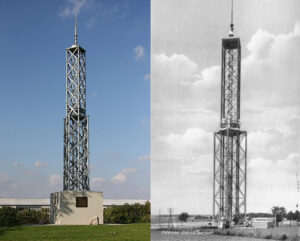 Fact: The Odin Tower was blown up in 1944