Comic books: When he was younger, he collected comic books – which he now admits is a pretty nerdy thing to do!
Idols: He's a little bit in love with Megan Fox. His male idol is Justin Timberlake
Girls: He prefers intelligent girls and is also obsessed with girls' eyes
Fear of water: He can't swim and is downright afraid of the sea
Shyness: He describes himself as the most shy member of One Direction
Kisses: According to Harry, Zayn is the member of One Direction who has kissed the most fans
Rumors: Despite the many rumors swirling on the internet, Zayn denies that he kissed Harry during a performance. The images online are all photoshopped!
Little sister: Something guaranteed to make Zayn smile is his little sister Safaa
Fan: The craziest thing he's ever seen was a fan hiding in a trash can to avoid security and get closer to the boys of One Direction
Nightmares: Zayn had his worst nightmare as an eight-year-old, where a giant Power Ranger chased him. Weird!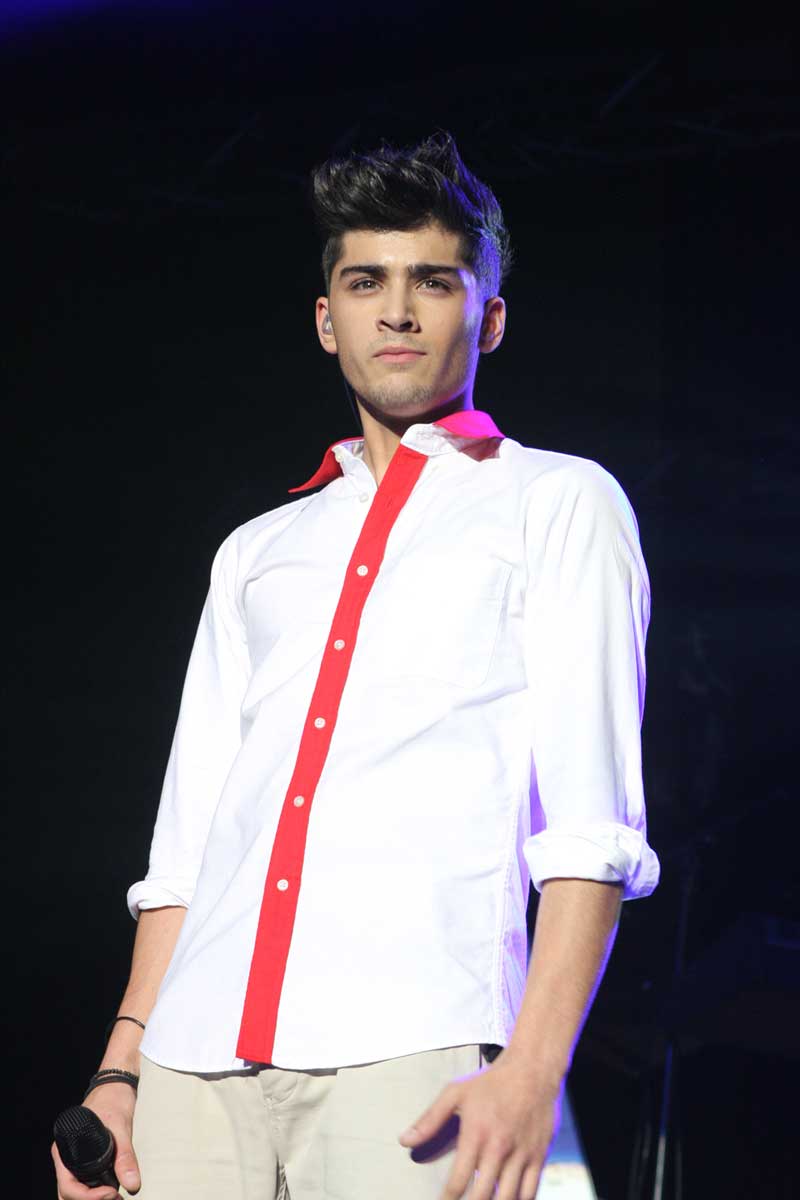 Fact: Zeyn Malik is, according to himself, the most shy member of One Direction
Facts about Zayn Malik's background
Birth: Zayn Malik was born on January 12, 1993 in Bradford, West Yorkshire, United Kingdom
Parents: His father, Yaser Malik, is Pakistani and his mother, Tricia Malik (née Brannan), is English
Last name: His surname Malik means "king" or "chief" in Arabic
First name: His first name Zayn is actually spelled with an 'i' and not a 'y' – but he thought the 'y' seemed more original and decided to use it instead (as a sort of stage name). By the way, Zayn means "beautiful" in Arabic
Middle name: His middle name is 'Javadd', which people often misspell
Age: He was the second oldest member of the group One Direction (next to Louis Tomlinson)
Favorite…
Singing: Zayn Malik's favorite song is 'Thriller' by Michael Jackson
Album: His favorite album is 'Griffiti' by Chris Brown
Book: His favorite book is Harry Potter
Band: His favorite band is *Nsync
Fag: His favorite subjects in school are English, art and drama
Food: His favorite food is chicken
Motto: Zayn Malik's favorite motto is: "Never live life in fear of death and never give up hope no matter how hard life is"
Other facts
Smoking: Zayn is addicted to cigarettes and would love to quit smoking
Ritual: He has a set ritual that he always performs before going on stage: he brushes his teeth
Cat: Zayn Malik is a cat person. His favorite animals are lions
English teacher: If he wasn't in One Direction, he'd like to be an English teacher
Drawing: He loves to draw in his spare time
Date: An ideal date for Zayn would be to go out to dinner, watch a movie at the theater and then go home to relax with a few drinks
Tattoos: Zayn Malik currently has 8 tattoos. On his chest is a royal crown representing the meaning of his surname ('king' in Arabic)
Pets: His first pet was a dog (a Staffordshire Bull Terrier) named Tyson. He has also had two cats named Lily and Lolo
X-factor: Zayn was discovered on the X-factor program (in the UK)
Lies: Zayn has said that he never lies about his boyfriends or past relationships because "he doesn't see the point and knows that you'll just be exposed and look like an idiot"
Black clothing: If he could only wear one color of clothing for the rest of his life, it should be black
Marriage: Zayn wants to get married before he turns 30