Wiped out: Today, Copenhagen is a large city with over a million inhabitants. It wasn't always like this, and we're not just thinking about the fact that populations tend to increase in larger cities. In the early 1700s, a bout of plague ravaged our capital city. Estimates show that the population at that time dropped to a drastic 60,000 people.
Disneyland: The impressive amusement park in the US puts little Tivoli in Copenhagen to shame. But actually, our well-known landmark in the capital should hold its head high. After all, Walt Disney himself found great inspiration in the Danish Tivoli, which he later used as a starting point for his Disneyland.
Gender reassignment: Denmark and Copenhagen have been at the forefront of many breakthroughs and inventions over the years. One of these is the first successful gender reassignment surgery. It took place in 1952, when George Jørgensen became Christine Jørgensen in Copenhagen.
Mermaid: The world-famous statue of The Little Mermaid, based on the fairytale by Hans Christian Andersen, draws tourists from abroad to our little capital every year. She's been through a lot in her time, but something strange must be that she was once censored on Facebook. After all, she is topless!
Self-government: There is prestige in attending the University of Copenhagen. Up until 1771, their faculties were almost self-governing. Among other things, they had their own laws, legal system and even a prison.
Beer: At the Carlsberg Brewery in Copenhagen, you can see the largest collection of unopened beer bottles. It started as a private collection of one person, but when the collection grew too large to keep at home, he donated it to Carlsberg. In 2016, the number of bottles was more than 20,000 – and counting.
Decapitation: By and large, it wasn't that long ago that you could witness public executions in Copenhagen at places like Gammeltorv. It was a gathering point for family members of all ages to witness such punishments. The burning of people was not atypical either. In 1627, the beheadings were moved to Nytorv, where the last execution took place in 1758. Here, it was the well-respected citizens Frederik Hammond and Anders Sundblad who had to die because they had fabricated fake securities for 34,000 rigsdaler.
The K: When specifying areas in Copenhagen, you can end with, for example, 'V', 'Ø' and so on, indicating the direction in relation to inner Copenhagen. But why is inner Copenhagen called Copenhagen K? It's all about the former division of postal districts in our capital city. Therefore, the K actually refers to Copenhagen itself.
Strøget: Copenhagen is characterized by the pedestrian street Strøget. The street opened back in the 60s and at the time, Strøget boasted the distinction of being the world's longest car-free shopping street. However, that record has since been broken, but at 1.1 kilometers in length, the street is still the longest of its kind in Europe.
Castle: If you're walking around Copenhagen today, you might wonder why something as obvious as "Copenhagen Castle" isn't on a map. There was, however, a Copenhagen Castle. However, it burned down in 1731, after which Christiansborg Castle was built on the same site.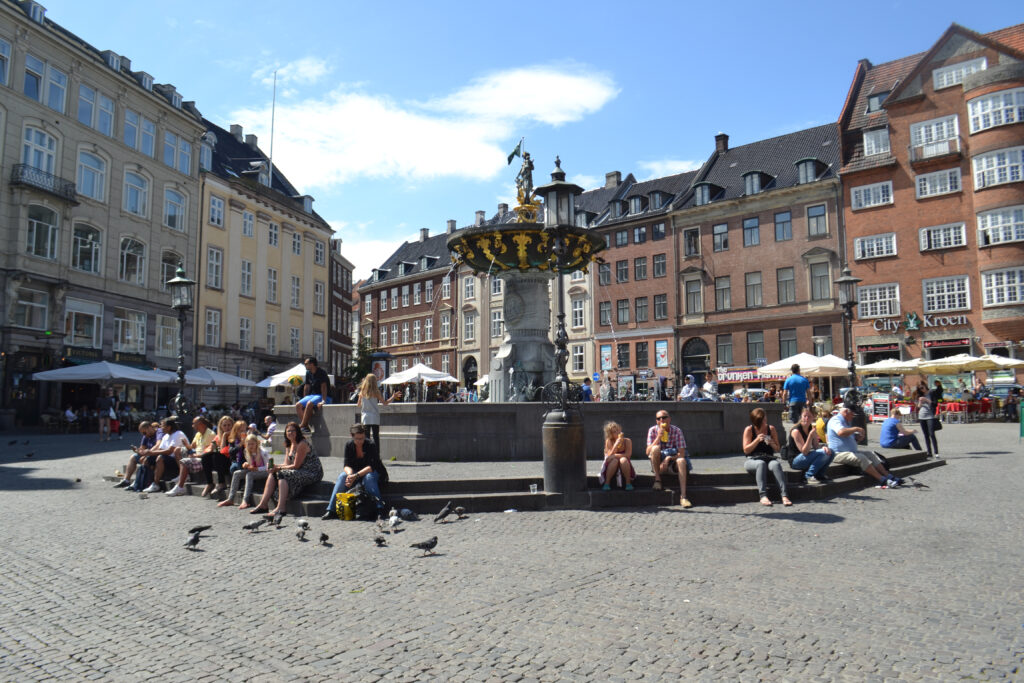 "Gammeltorv" in Copenhagen